Maybe it's because I'm stuck writing frameworks and plugins at work all day while the rest of the teams are well making games… So I make games in my spare time again.
FUCK THIS JAM
It just so happened that FuckThisJam was on, and the title, and the topic intrigued me- "making a game in a genre you dislike, a genre you don't care about and a genre you don't know about."
So I used to try really hard to come up with reaction based mini games for work. And i hate reaction games, mostly because I'm pretty bad at it. But for some reasons those short and seemingly simple games are all over the charts.
I decided to do a version of "Don't Step on the White Tiles", because it was pretty popular, and I don't really get it.
I call it, "Don't Step on the White Tiles – Rainbow Edition", and since it's a Unity web game, you control using your keyboard instead of just tapping on the tiles.
I worked on this for more or less 4 hours in about two days.
Since it's piano tiles, and I wanted to get sound of Do Re Mi Fa Sol La Ti Do, and couldn't find any free ones for some reason, I used Garage Band and Audacity.
Ironically, I started with a grey theme.
And then I realized, wait, you're not suppose to step on the white tiles. So there, all muted colors and a white background.
And then here it is on the FuckThisJam games site:
Do try it out, and tell me what you think: http://purplelilgirl.itch.io/dont-step-on-the-white-tiles-rainbow-edition
THE ARBITRARY GAME JAM
My second jam that week (I think I caught a game jam bug?), is The Arbitrary Game Jam.
The only reason I did that was because I couldn't sleep one night. So I worked on something from around 12 midnight till 4 am, but I wasn't happy with that one at all.
So the next day, I scrapped the whole thing and started with a new concept from scratch.
Oh yah, the theme was satan, implosion and glomp, and bonus points if you can get 11 in it (since it's the 11th TAG Jam).
So I made a game called "Satan Wants to Glomp You".
Basically, you are in this room, an imploding room, and you are being chased around by Satan who wants to glomp you.
I had just finished playing "Oquonie", which is this really pretty and strange artsy game on the iPhone. So I wanted to create my game in that vein artistically.
I don't have any artists though, so I decided to make use of the particle effects in Unity.
And then I made the character's colors darker.
This took me, maybe more or less than 4 hours.
And then as I was about to upload, I realized I didn't have a single sound in my game. So a quick visit to Freesounds.org, I got really creepy background music, and some guy saying "Hug Me" over and over again.
And then after I uploaded it, someone commented that the reply was a bit annoying because the game was too short, and I'm like, you're right. I need to make the game longer.
So I forced 11 into the mix, I changed the room into an 11×11 tiled room.
Oh I was the first one to submit, so yeah!
Again, do try it out, and tell me what you think: http://purplelilgirl.itch.io/dont-step-on-the-white-tiles-rainbow-edition
GLITCH JAM
And then there's Glitch Jam, which I initially hesitated about joining. It's all about embracing glitchiness. It's not a bug, it's a feature.
But I decided to do it anyway. My first night was spent getting distracted by rainbow looms, and trying to make my game be gitchy, but not too buggy that it's no longer playable. That was harder than I thought.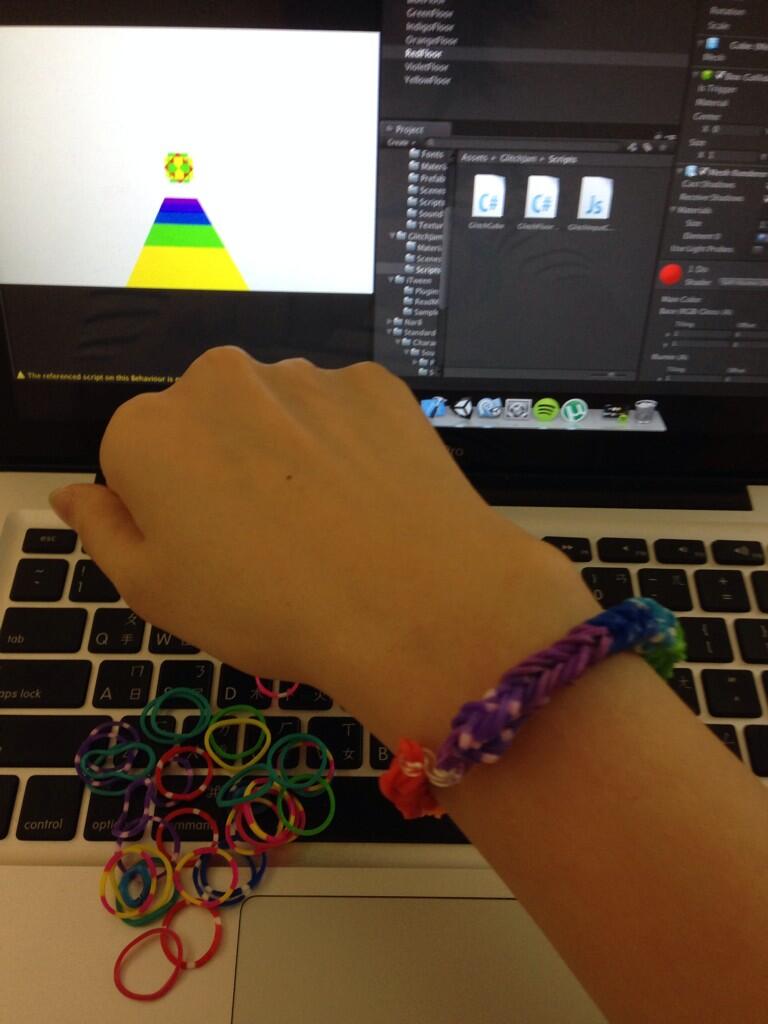 I decided to reuse a lot of the elements from my FuckThisJam entry, because I really liked the rainbow and whiteness of it, I also really liked the music and font, so I reused those too.
My GlitchJam game is called, "The Only Way to Go is Forward", it is an endless runner, where you can only keep moving forward, Even When You are Unsure of the Road Ahead. The goal of the game is to go as far as you can without falling.
The glitch part is, you are unsure if and when the tiles in front you will show up.
This was done, in more or less 2-3 hours, although I'm not that sure about the polish of this one, but since it's glitch jam, I can always blame any bugs on that.
So check out my glitchy game: http://jams.gamejolt.io/glitchjam/games/the-only-way-to-go-is-forward/28115
NoJembre is kind enough to make a Let's Play video of my game.
So… what do you think? Is it too glitchy? Or not glitchy enough?
NAR8
I'm thinking of doing Nar8 Jam next, since the deadline is a month, and their emphasis is all about story. And since aside from doing these games, another thing that's been keeping me entertained lately is writing novels and posting them on Wattpad.
So I'm thinking I can do a semi-interactive version of the novel that I'm writing.
ANY OTHERS?
So that's it, so far. Any other game jams I should know about?